maya@klubharmonija.rs
ERGELA KONjA
ŠKOLA JAHANjA
KONjIČKI KLUBOVI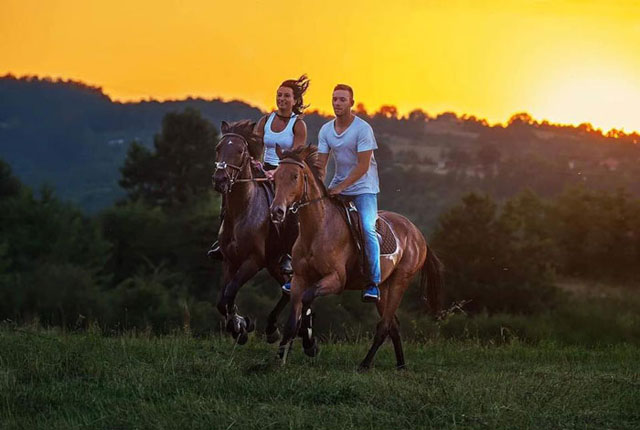 The Harmony Ranch Club, situated in the canyon of the river Gradac near Valjevo is a nature lovers' club.
The club was created with the aim of stabling and breeding horses.
The Harmony Ranch Club incorporates an equestrian club – the 'Swallow Way' whose excellent results make us particularly proud.

The Club boasts a hotel with a restaurant, three separate barns and separate pastures for horse breeding.

At present it has the capacity for 20 riders and their horses.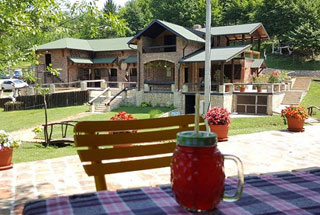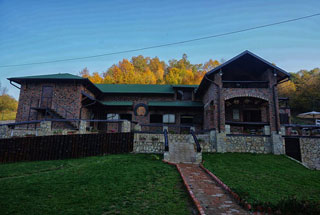 The grand panorama of the site, nestled as it is between five mountains, presents a unique experience for riders.

It is an ideal place for cross-country riding. The surrounding area is sparsely populated offering the possibility of unrestricted movement both to riders and mountain bike and trek enthusiasts.

Of particular interest is the river Gradac – a nature reserve which is accessible to riders.

Fly fishing is allowed with a permit.

An old water mill in working order and a restaurant provide an ideal place for a riding tour.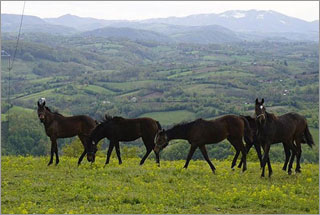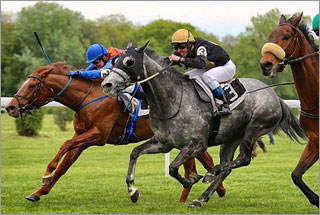 Riding lessons for kids of 7+ years.
Lessons are being held in an outdoor paddock with trainers supervision.
Protective equipment is mandatory and can be provided if you lack your own.
Our school horses are calm and well trained.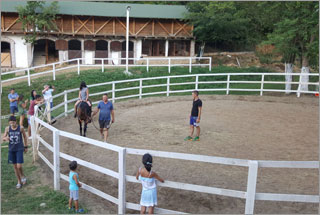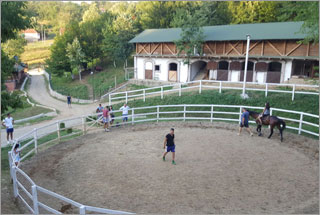 One lesson lasts for 1h and consists of saddling,grooming and riding. Given the fact of kids being inpatient and easily bored we tend to make the lesson as constructive as possible.
Adult lessons depend on the level of your knowledge and agility,and can help you improve your technique.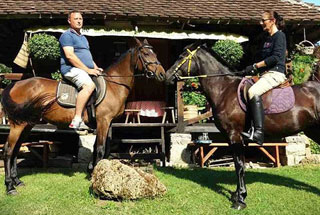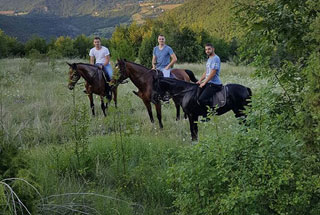 Our pet friendly rooms vary from 2 beds to family studios equiped with minibar,tv and wi fi connection.
We can accommodate up to 20 riders at this moment.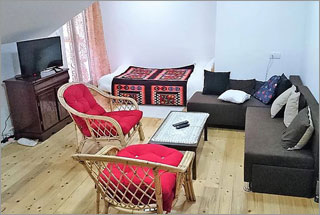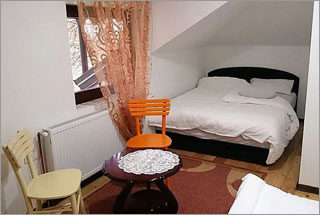 Crosscountry riding
- Sceneries surrounding our ranch make an ideal place for crosscountry riding tours. Ride trough river Gradac or one of the 4 mountains surrounding us on one of our calm,trained horses. Tracks vary from narrow woodland dirtroads, to wide mountain top fields covered in flowers and rare mountain froots. We make personalized tours according to riders level of skill and do our best to fullfill your ideas.
River trail
- Fresh water trout,cought and prepared just for you. Homemade bread made out of ogranic grains in a traditional water-mill and a table by the river. This ride takes about 6 hours including a lunch brake. It covers tracks of mid-dificulty and is filled with exicting places and must see locations. A good riding proposal to get acquainted with the surrounding.